Neyzen Zeki Sözen My beloved father Doğan Sözen and my dear mother Nevzade Sözen are from Gürün, Sivas, Turkey. They moved to İstanbul in 1961. They started living in Üsküdar (a place in İstanbul) on the 6th of July, 1969. After four days, I was born on 10th of July, 1969. I have grown up in Üsküdar and I have always thought that, growing up in Üsküdar was a luck for me.
Ney ile Segah Makamında Doğaçlama
Neyzen : Zeki Sözen
I graduated from Üsküdar Paşakapısı Primary School, Haydarpaşa High School and finally, the University of Anadolu, Faculty of Economics.
Ney ile Acemkürdi Makamında Taksim
Neyzen : Zeki Sözen
I started being interested in music in my very early life by playing rhythm instruments. I was playing whatever I found (like table, chair, stewpot..etc.) with every song I listened to.
In 1979, my mother bought a rhythm instrument for me. I was more curious about music and I began performing better. In the high school, I and some of my friends formed a rhythm-band that plays thick books, desks..etc.
We could perform some famous songs in 80's, for example, "Big in Japan", "Midnight Man", "Size Selam Getirmişem" and "Karanfil Deste Gider". We even contributed to some song contests.
In the high school, our guidance counselor, Fatma Oğuz, tested us about the jobs that were suitable for us and the skills that we had. The questions were prepared by the University of Cambridge. The result was surprising for me. Although there is no musician in my family, my music skill was 80 percent, the foreign language skill was 10 percent and the other skills were 10 percent.
Ayhan Sicimoğlu ile SKYTURK Renkler Programında Ney Enstrumanı Tanıtımı :
My older sister Edibe Sözen always supported and helped me to be a neyzen. One day, she talked about her two students at the University of İstanbul, who play (blow) Ney.
The students introduced ney to me and I was very impressed by its sound. I wanted them to teach me how to blow ney, so I took lessons from Mercan Dede (one of the students). After three months, since I got to a more professional level, Mercan Dede suggested that it was the right time for me to begin taking lessons from his teacher, Ömer Erdoğdular.
I realized that music is not so easy and therefore I wanted to have education.
I passed its examination and I attended Emin Ongan Üsküdar Music School. In the school, I took lessons from Vahit Anadolu (rhythm artist in Radio İstanbul), Âmir Ateş (composer), Fethi Karamahmutoğlu (composer), Nihat Adlim (composer), Şeref Çakar (composer and conductor), Varujyan Zilciyan (teacher of musical theory) and Metin Özçamlı (teacher of musical theory). I express my deep gratitude to all my teachers.
In 1989, I met with the teacher of teachers, Ömer Erdoğdular. I took lessons from him nearly five years.
At last, I started being known as "Neyzen Zeki". I performed in many radio records and more than 100 concerts with my teachers during five years. In 1992, I played in the University of İstanbul, İcra Heyeti (the group of musicians) as a guest artist.
Between the years 2005 and 2006, I worked in the University of Sabancı as a Ney teacher.
ZEKI SOZEN:
Since I am always in search of different sounds like classical music, the military music of mehter (janissary band) or jazz, I have met with many artists like Okay Temiz. The one of the artists I met was Gül Tekinson Sözen who is my goodwife today.
In 1991, I passed the exams of "Republic of Turkey, Ministry of Culture, Historical Music Ensemble". I perform the mehter music and the classical Turkish music in Turkey and abroad.
with MEGA STAR EMEL SAYIN: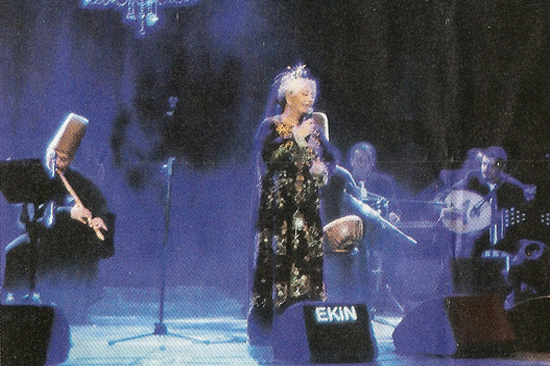 SOME CONCERTS
İspanya " Centro International De Enstudios" (Uluslararası Mistizm Festivali)
Almanya " Sprachen Des Köpers" (Vücutların dili-Dans festivali)
Portekiz " EXPO 98"
Japonya " Türk Köyü ve Tokyo Camii'nin açılışı"
Hollanda " Türkiye Festivali 2001"
Tunus '' Festival de la Medina'' (Medina festivali) 2003
Londra Türk Festivali
Viyana ve Bratislava " Alla Turca" Mehterden-Mozart'a
Osmanlı'nın 700. Yıl kutlamaları
3. Uluslar arası Boğaziçi Festivali "Hoşgörü İmparatorluğu"
Istanbul Lirik Tarih Concerts
ART OF ANATOLİA SHOW
Okay Temiz ile (Mehter - Caz) Concerts
Tuluyhan Uğurlu'nun "Senfoni Türk" Concerts
Erkan Mutlu Aşk Ateşi Concerts
Ahmet Özhan Lirik Tarih Gösterisi Concerts
Vincent van Gogh resimleri ile Rast Taksim
Neyzen : Zeki Sözen